Hi guys! I'm returning home today and I know that my house is going to be less than par since I left my hubby in charge of three boys! So it was funny when Tonia sent me her guest post talking about cleaning your home! Maybe she was hinting at something;-)
Hello there people, Tonia here from Chic Modern Vintage. I'd like to say that I'm taking an impromptu trip to some exotic locale, but that is not the case.

Ms. LaKeitha is in New York and I'm filling in while she's out.
We all like to discuss how to decorate, and what to use to decorate. I like to get down to the bare basics of great decorating.

I was speaking to a long time family friend the other day, we discussed bed bugs. Yes, bed bugs. She asked, "You remember when, your Grandmother use to take all the mattresses out, and lay them out in the sun?" Then she went on and asked, You remember when she would have everybody in the house cleaning windows?"
Here are three things to add a bit of spark to your home this Fall. Things that my Grandparents did when to keep their home in tip top shape.
It will only cost you a bit of sweat.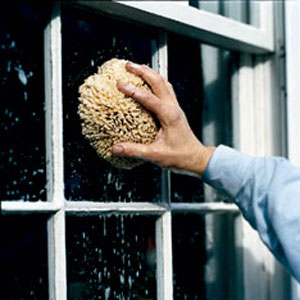 Clean windows let tons of glorious light in.
Try a good cleaning inside and out twice a year. In the Fall and then again in the Spring.
It's a bit of a hassle and might be considered a bit weird, but laying your mattresses out in the sun, will freshen them up. We never had bed bugs either.
Fall is a great time to clear out things out, and get organized. Donate usable unwanted items. This way you're not overwhelmed when Spring comes.
These are things we all know to do but sometimes they are overlooked or maybe not mentioned. A good clean and organized home is really the first layer of decorating.
Thanks so much LaKeitha for asking me to fill in while your off gallivanting in New York. I hope your having a fabulous time in New York City.
Can I get a key chain, please?
Great tips Tonia! I laughed at the thought of me putting the mattress outside for a while! My husband would not only think I'm crazy, but he would probably check into a hospital too! Have any of you ever put your mattress out in the sun for a while? Do you have any cleaning rituals that you do with the change of the season? I'd love to hear them!
Okay, so I'll be home later today! I may be able to post tomorrow or I may wait until Friday after I've gotten some rest...I can't wait to share everything with you!