Remember this?
Well after days of intense labor, it is now this:
Actually I already had everything that was used in this room except for the paint. I will be updating the light fixture, the toilet seat, and the door knob in the days to come. I know that you're probably wondering what's the deal with the shower curtain and bath accessories so let me explain: I purchased these items early last year when Target was having a clearance sale on a lot of stuff at 75% off! At the time I thought it would be cute in the boys bath since I'm going for a nautical 'Concept' in their bedroom. Now that I'm a little more in touch with my creative side, I know better than to be so matchy matchy and themey! So yes I will be finding a new shower curtain and and accessories later, but the boys really do enjoy this little set (especially the boat that goes "BONK BONK" when you press it down for the soap). I mean really can you tell a 4 and 3 year old no?!
So what do you think? And I feel as if there is something that should go above the toilet. I was thinking the word FLUSH in red because boy O' boy! And where can I find a good light fixture that's not too expensive?
To catch up on what took place to get to this CLEAN bathroom start
here
,
here
, and
here
***Edited to add: I'm linking this up to
Thrifty Decor Chick's
before and after party and
the shaby chic cottage transformation thursdays
and
Funky Junk Interiors
and
BNOTHP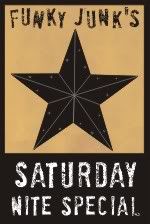 Thanks for stopping by!