Have you ever been so grateful for having certain people in your life that you really don't know how to show them?  That's how I feel about Janell, Abby, Rachel, Myssie, Tricia, and Tonia.  Who knew that this blog would put some really cool people in my life and what's amazing about it is that they are all in different parts of the country!
You all know that Janell is the first blogger that I ever interacted with.  I never in a million years would have thought I would meet her and later be working for her in House of Fifty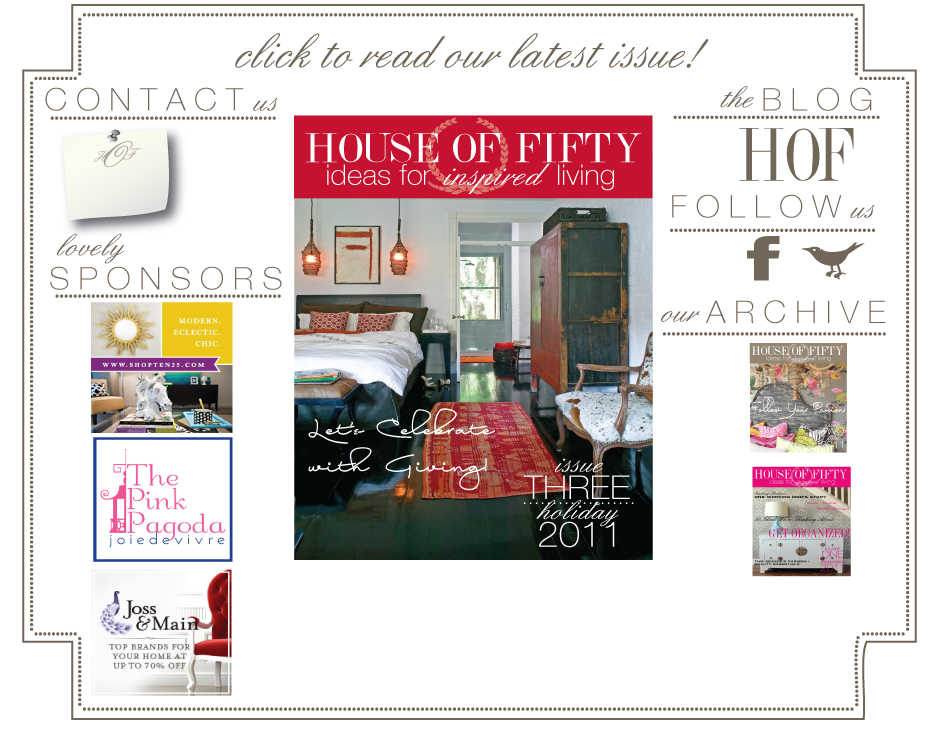 Then you have Abby.  I found a new friend all because I needed business cards!  She goes above and beyond to make her costumers happy (I know because I'm one picky customer!) I really don't know what else to say about Abby other than she ROCKS at what she does.  Seriously, look at the Christmas cards she designed for me
and lets not forget my business cards
She also did an amazing job in House of Fifty in an article for entertaining children at a Christmas Party (starting on page 162!)
Rachel is a girl after my own heart! She made me realize that's its ok to reinvent yourself.  She does that wonderfully!  She started out as an interior designer and now she is all about vintage (and trust me, she has an eye for vintage!)
I never thought I would ever get the hang of twitter.  Now I have a twitter BFF! Actually I have 2!
and @DIY_Tricia
Just a gal who starts home improvement projects that her husband usually,
reluctantly, has to help finish.
And they are also friends! Long time friends who found each other again through my tweets!
And last but not least, I have Tonia.  Tonia, Tonia, Tonia! Tonia and I laugh all the time.  Tonia and I have a terrible terrible thrifting habit.  Tonia gives me great advice (sometimes!).  She also has a great way of making me think about things even when what she says irritates me (seriously).  She really is a wise woman. 
I posted last night on Facebook that God is good to me.  I never thought in a million years I would be where I am.  I always knew I was destined for something better and I ended up with the BEST!
I'm very thankful for the people in my life. VERY thankful.  And as for the readers of this blog, I am grateful that you think its worth reading everyday. 
I hope you're having a wonderful day!