AnNicole is having a party on her blog and it's titled
"How I Met My House"
. I'm always down for a party!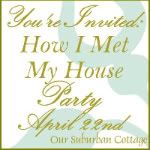 We started our search for a home after I realized 5 people in a 2 bedroom apartment wasn't gonna work for us. Of course I was scared of the process since my parents arent home owners and his parents didn't think it was the best move for a newly wed couple with young kids and one income. But, what is that saying "You can't tell grown people anything"?! So we decided that it was the best thing for us plus our lease was ending soon and our third baby was arriving in a few months. After searching without any look, I saw this house
It wasn't much to look at, but it had almost all of the things that were on my "wish list":
*At least three bedrooms with a 2 car garage
*separate living room and family room with fire place

*eat in kitchen
*Dining room

*nice size backyard with fence (our house does not have the fence, yet)
*established neighborhood (we also drove through the neighborhood at night to check it out)

*at least 2 bathrooms (we have 2.5)
Oh, and it had to be within our price range (the economy made that pretty easy).
I knew that if we had the most important things as far the structure of the house, that I could definitely make it a home that we would love!





Looking back at the before photo of the house, I think I'm well on my way!